Livestreams
I'm regularly streaming full concerts online. See sidebar for next scheduled stream. The url Ugress.TV always points to the next episode.
Real life concerts
As of August 2023, currently no physical shows planned until mid 2024.
---
About Ugress Live
Ugress Live is a vivid, colorful and cinematic concert experience that combines the artist's musical stage performance with realtime visual effects and multi-camera processing. Every song has its own visual narrative and universe, creating a seemingly endless stream of hyperreal music videos, performed live on stage and screen.
The artist performs live music with electric violin, vocals, computers, voice and samplers, in wild, post-apocalyptic forest of screens, devices and projections. Like our increasingly screen-based everyday lives, the artist and the audience communicates intimately in a room… but at the same time also through a bewitching multitude of screens and cameras. Where is the here, here?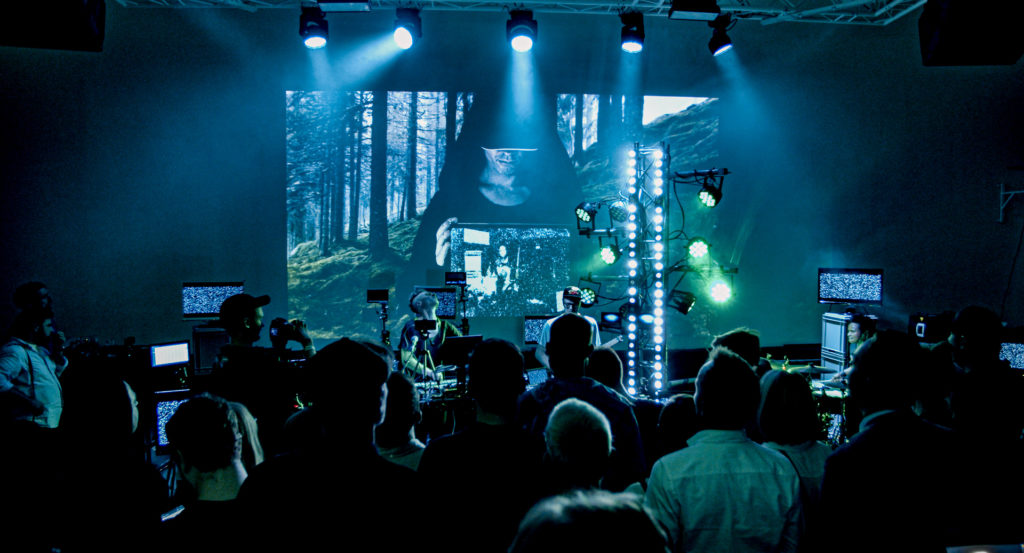 With melodic, atmospheric and energetic music, the artist performs through movies, Youtube-clips, dating-apps, vintage computers and cloudy datacenters, they run through videogames and climb social media walls, always restlessly huntingthrough a series of hyper-real, mediated scenarios. Where is the real here, here?
The concerts are a platform for live and visual exploration of the dystopian themes on the recent "dark future" trilogi of releases; The Wrong Future (2018), Black Anorak (2018) and Ghoststorm (2019).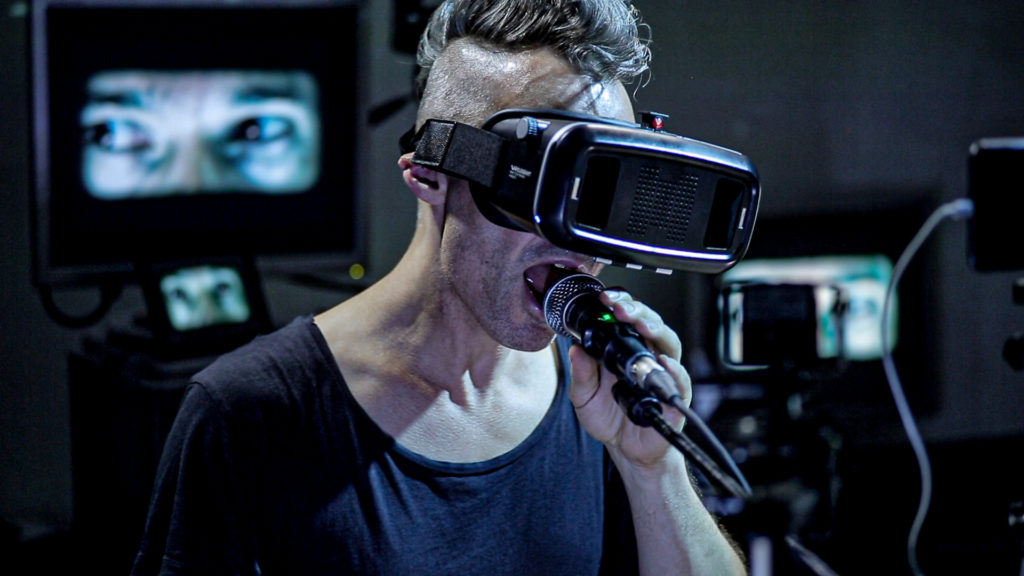 Spanning electronica, film, triphop, dub and EDM, their music is featured in award-winning movies, TV series, art and blockbuster videogames. With a playful mix of epic nostalgia, mysterious sci-fi moods and irresistible groovy beats, the artist has won acclaim for their visual live performance, an entertaining combination of live concert, cinema, musicvideo and videogame experience.
The show is based on a previous award-winning solo performance "There Is No Here, Here" by main artist Gisle Martens Meyer. The performance toured European festivals for art, media and technology with a show that created live music videos to explore our endless editing of reality, how living our lives through social media affects us.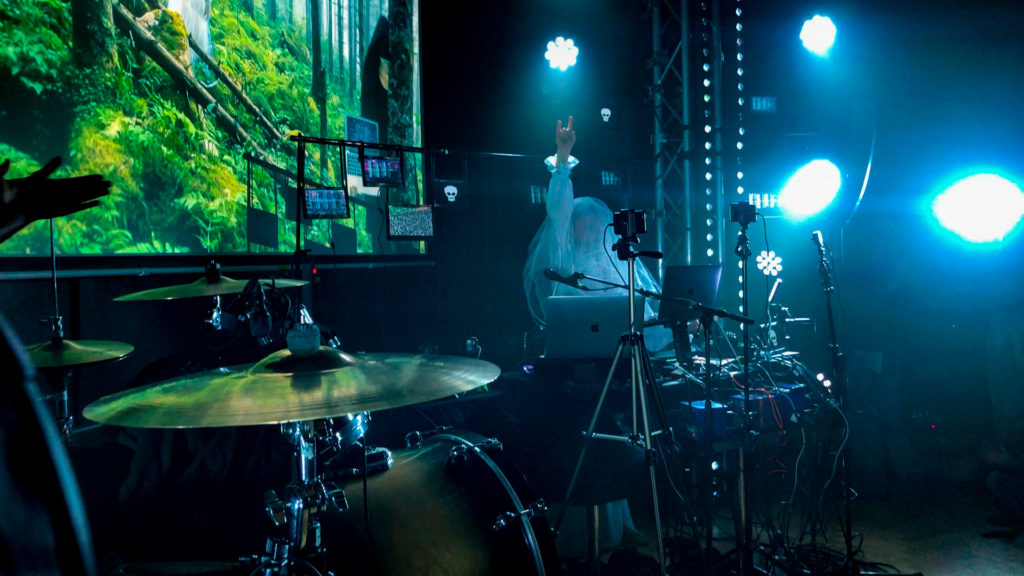 Ugress is created by Norwegian media artist Gisle Martens Meyer, currently based in Berlin, Germany. The project launched with their own self-released vinyl in 2000, and has since released several albums with gold status in Norway, and seen several nominations to the Norwegian Emmys, Golden Globe and Oscars.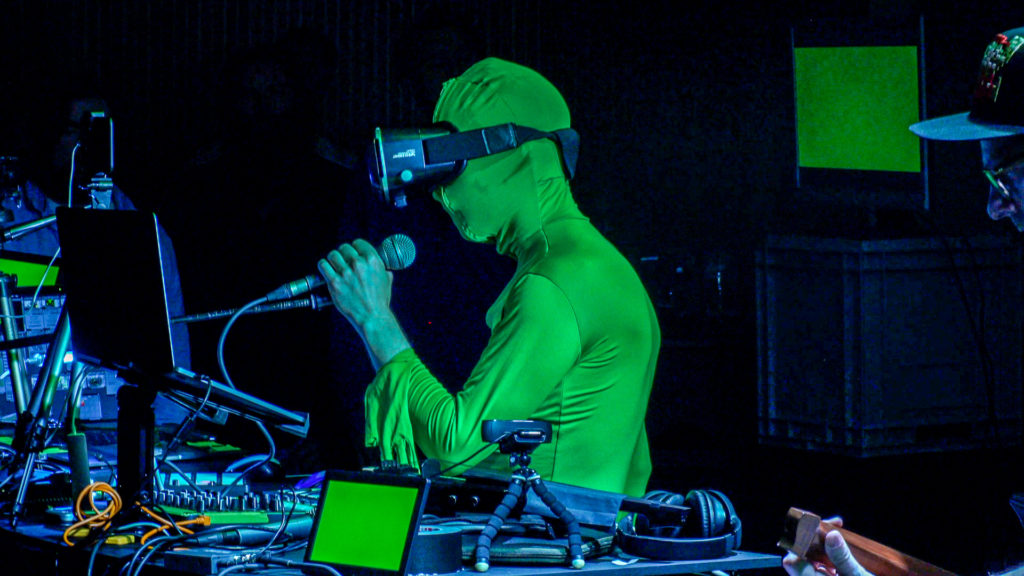 Ugress' tracks are regularly featured by Spotify in their darker corners of the playlist universe, and they've created soundtracks and songs for several large films, TV and videogames like NRK's Expedition Arctic and SONY's PlaystationLittle Big Planet. They have made comissions, productions and performances for a large range of international institutions, among them: Norwegian National Broadcaster, Norwegian National Ballett, Bergen Philharmonic Orchestra, Tanzhaus NRW Düsseldorf, Theatre Bernardine Marseille, ZKM Karlsruhe, InShadow Lisboa, MarteLIVE Roma and Sala Hiroshima, Barcelona.
The word "Ugress" is Norwegian and means wild plants, weeds.