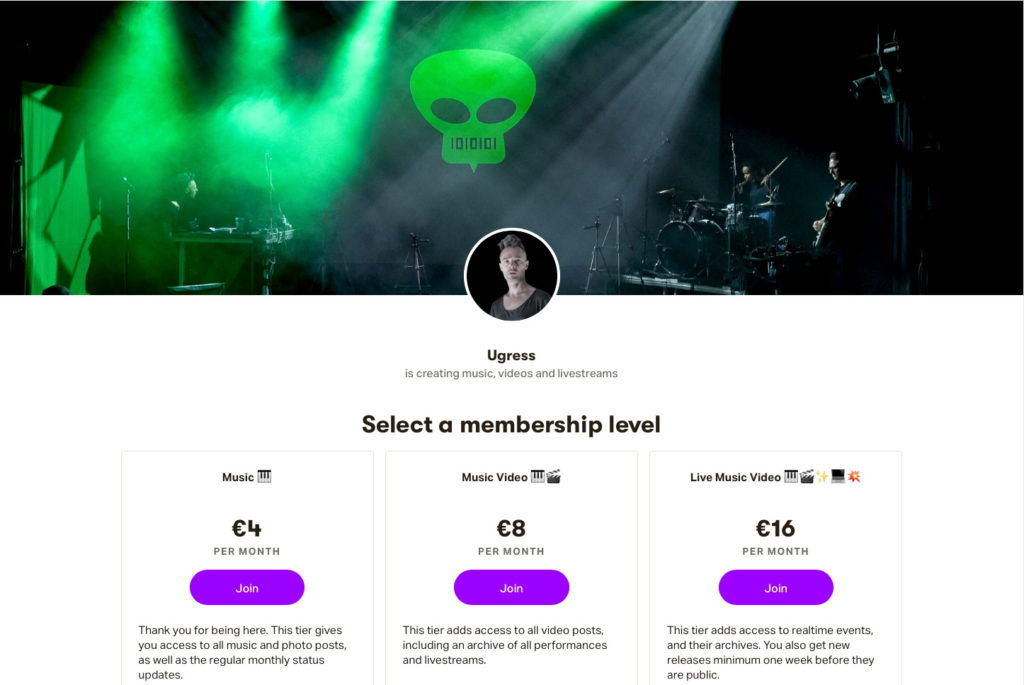 I've made a Patreon page for Ugress. Patreon is a platform for artists to earn a monthly income by providing regular content directly to their fans.
It is June 2020, the strangest of times, for all of us. I'm suddenly performing regularly from my living room with my houseplants, I am producing a lot more music and video than I usually manage to, and I get to present it a lot faster than normal. It's like a huge, infinite public work-in-progress that becomes a work in itself. This is awesome, I've disovered community, conversation and the seeds of a new future.
So I've decided to make a Patreon for three main reasons: To gather and grow these seeds into a concrete space, to establish a more sustainable source of support in a fragile world, and in the long term, afford to hire an assistant, so I can create more and administrate less.
I've just performed the fifth and final Ugress livestream concert of "season one". They are so much fun! You can watch them all right here. It is extensive work creating the content for these shows, but it is a great path for encouraging my own production, experimenting with new material, and have a sustained conversation with fans. I make sure that the content I create also scales to real life concerts and upcoming tours.
Besides saving my ass from a cancelled tour and having the time of my life in the studio, it also turns out that these shows – or perhaps more correctly, the SPACE that these shows take place in – is a magic land of possibilities, a new kind of frontier.
I've always prefered to work independently, and as far as possible sustain myself outside artistic "scenes" and the constraints of the traditional music industry. That way I can create my own path, but naturally operating alone takes a lot more time, and it is often a very lonely path. I frequently get lost, but it is always exciting, and I've made it so far.
The livestreams has created for me a first sense of community, being part of a "hive" kind of conversation and a notion of belonging. I was so touched when I realized that commenters in one of the livestreams, was greeting each other from previous streams. Something clicked into place in my head when observing this. I'm careful with my observation – it is extraordinary circumstances for us all right now. But that makes a new normal possible. I very much would like to protect, explore and develop this further. And importantly, I would like to do this away from the corporate social media and  music industry structures.
Therefore, I've made this Patreon, a space to grow these seeds. I will continue with "season two" of the livestream series in the early autumn. Most likely next one will be in second half of August, with monthly shows. In September I start touring reality again. In the meanwhile I'll focus in June and July on composing and producing the music for the next Ugress album, which is planned for a November 27 release, supported by a European tour (fingers crossed). During these summer months, I will also take care to develop this Patreon, and figure out how to combine upcoming livestream series with reality touring.
I'm still puzzling out all the elements of my existing activity: Releases, commissions, tours, film music, livestreaming, internet conversation and now Patreon. I also need a coffe every now and then. It is a bewildering mixture right now, but it has a very strong notion of potency in it. You know how you sometimes get this feeling that something in front of you feels right, but you can't quite articulate it yet? As a person and artist, I rely on this sense above all the others. All of my intuitions, artistic and personal and professional, are now screaming "This is it! Go this way! Now!".
So I'm going this way. Now.
This changes little for existing activity. You can always stream all of my music, on services like Spotify or for free on Bandcamp and Soundcloud, as well as on Youtube which also includes music videos. Social media will see roughly the same amount of content as before, as will the mailing list. Livestream concert series and their conversations will be open and free to everyone during realtime performance, but from today, the post-show recordings and their conversations will only exclusively available here.
I've set up three tiers now at the start. My idea is that most patrons would probably want to stay at the lower tiers. Then, you can upgrade selectively to a higher tier – for example the realtime events – whenever something there catches your interest, and at the same time you can then catch up on the archive of that tier. So kind of "admission" for that month, and then you can drop back until I'm up to something interesting again. I have some ideas for even higher tiers, but will wait a while and see if this Patron even works at all, before adjusting the system over time.
I'm giving it at least 6 months for the "public beta" period, with some milestones on amount of followers to take stock underway. I think after a year it will be possible to see if this makes sense or not.
I'm very aware that this space will also eat up administration and communication time, so a large part of this plan is that it should eventually justify itself, by allowing me the finances to hire a part-time assistant. This is sorely needed on a general basis.  I am "making it" as an artist, albeit marginally, it has been my full time career for 20 years. However I'm increasingly spending more and more than 50% of my time on admin, comms and management of projects, crews and business. If I can grow this Patron to a few hundred patrons, and my other activity continues at it's current growth, I should be able to hire an assistant.
I will regularly post a written status update on my work and upcoming plans, like this one. I'll do behind-the-scenes reports of tours and comissions, if you've already followed my work for a while, you know these from social media and ugress.com.
I'll post work-in-progress on new tracks and videos, including embarassing self-refusals and killed babies, I can show my personal photos and videos of backstage, rehearsals and tours, and post scattered treasures from the extensive archives. Suddenly I'm very glad I've documented everything up through the years, I have a huge archive to pick from.
There will be monthly live hangouts and exclusive Patreon events. The specific content and frequency of these will have to be an experiment, especially as the world starts opening up now after the pandemic. I know for sure I will be insanely busy in October and November with touring. I also think people generally are exhausted by online events. I'm careful not promising too much at the start, but I'm also very much looking forward to exploring new possibilities I haven't thought of, so I'm deliberately leaving that part quite open.
Summarised, I've gone and made a Patreon. My goal, is threefold:
To create a "third space" where we can build a community and conversation away from the corporate social media platforms. Exactly what this can and shall be, will take some time to figure out, but the process will be exciting.
To create a new economic leg for me to stand on, in addition to streaming, touring, grants, commissions and work for film and TV. The last few months of pandemic shutdown have demonstrated how critical it is to have multiple sustainable income streams.
Future expansion. In the long term I aim to hire a part-time assistant. This will allow me to focus markedly more on creation and performance, and less on admin.
Thanks for reading, I'm very grateful for your attention and support. I'm very curious and excited about the possibilities here, and look forward to exploring this strand of the future. I hope there are strange monsters.