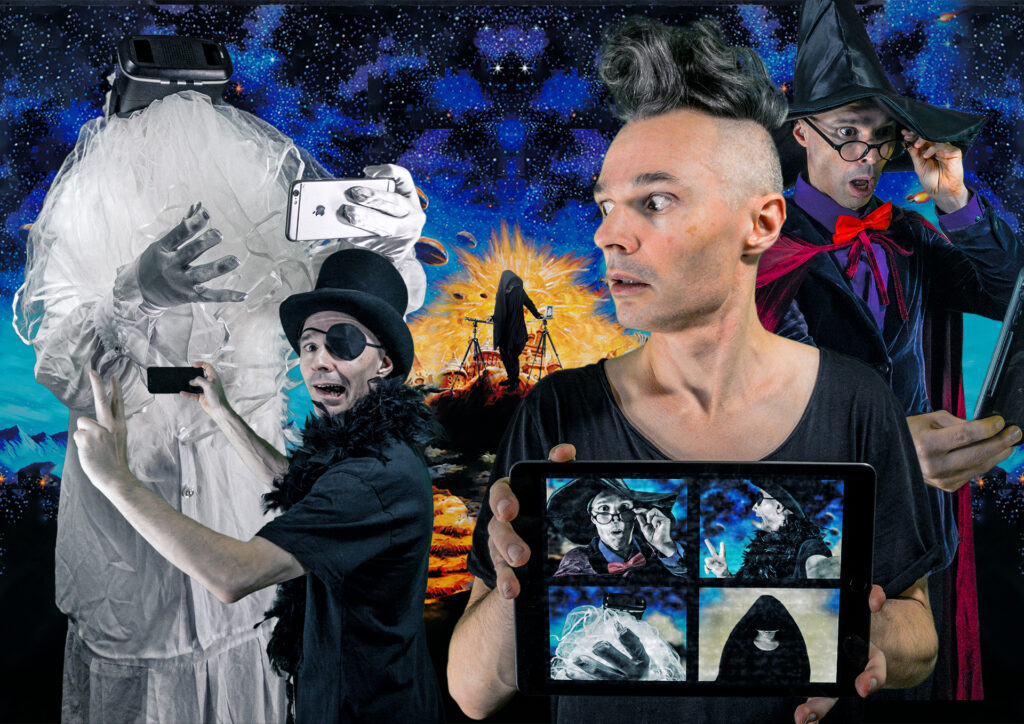 You can watch all concerts* on the upcoming tour in realtime as a Zoom multicam production on my Patreon Live tier.
At each show, I will set up three or four mobile devices and a HD audio microphone to stream directly to a Zoom meeting. I'll post the link to the Zoom meeting on my Patreon as soon as I'm up and running at the venue, usually around 16-17:00 CET.
That way you can watch us set up, soundcheck, prepare and then perform the shows in realtime, and you can select your own camera angle at your convenience. If you want, you can also participate with your own camera back to me on stage, and you can chat with other viewers around the world, but this is optional. You can of course join with your camera off, and with an anonymous name. All you need is the Zoom app and these evenings:
November 25th, Kristiansand, Teatret, OK
November 26th, Parkteateret Oslo postponed to September 2021
November 27th, Trondheim, Lokal, OK
November 28th, Tromsø, Driv, OK
December 2nd, Stavanger, BlygeHarry, OK
December 3rd, Bergen, Kvarteret, postponed to August 2021
December 5th, Stockholm, SubSnotty, postponed September 2021
This will very much have to be a crazy field experiment, there are so many challenges that can go splendidly wrong, but its going to be great fun trying to make this work. I expect out of a totalt of 5 shows at least 3 will probably work mostly okay, and 2 will have some issues. Some of the concerts are double shows because of restrictions so there is time to review any issues between show 1 and show 2.
You can access these Zoom meetings by signing up for my Patreon Live tier, and I will post a link to the Zoom meeting as soon as I get to the venue and onto the wifi. On my Patreon, I generally post regular content every month, and it consists of three tiers:
The lowest Music tier posts monthly music, photos and status posts from my current work and archives. An example of content on this tier is the Download wOwls in the mOss music post and the Photos post from the same project, and my monthly status updates.
The middle Music + Video tier contains all from previous Music tier and adds videos, behind-the-scenes, making-ofs of current and archival video posts. Every performance or production has a video posted to this tier as soon as possible, and every month sees a post from the archives. Most patrons are on this tier for the most of the time. Examples of content on this post is the Behind the scenes of "wOwls in the mOss" post.
The highest Music + Video + Live tier adds everything from the two previous tier, and in addition gives you realtime access to live streams and exclusive live performances. Examples of this tier is exactly this, you can watch the tour live on Zoom, and in months where I'm not touring, there is an exclusive Patreon performance from the studio.
The idea is that you can stay at whatever lower tier is interesting to you, and then "upgrade" to the higher tier for the period whenever something interesting to you happens live. Afterwards slide back down to your comfort zone.
Also note, my Patreon just recently reached it's first goal of 50 patrons, and will celebrate this with a dedicated Patreon hangout party in early December (most likely Dec 10th), streaming live from the studio chatting with everyone about how the Patreon has worked so far, how the tour Zoom livestreams worked out, and how to shape the Patreon for the next 6 months.
(* Please note, I can not guarantee wi-fi is good enough for HD streaming at every venue, and I have not gotten approval for streaming from all venues yet, but Kristiansand, Tromsø, Stavanger and Bergen are okay so far. Also note, we are daily getting changes, cancellations and restrictions that make everything harder and harder. Cancellations can and probably still will happen. This will very much have to be considered a "beta" for next tour.)