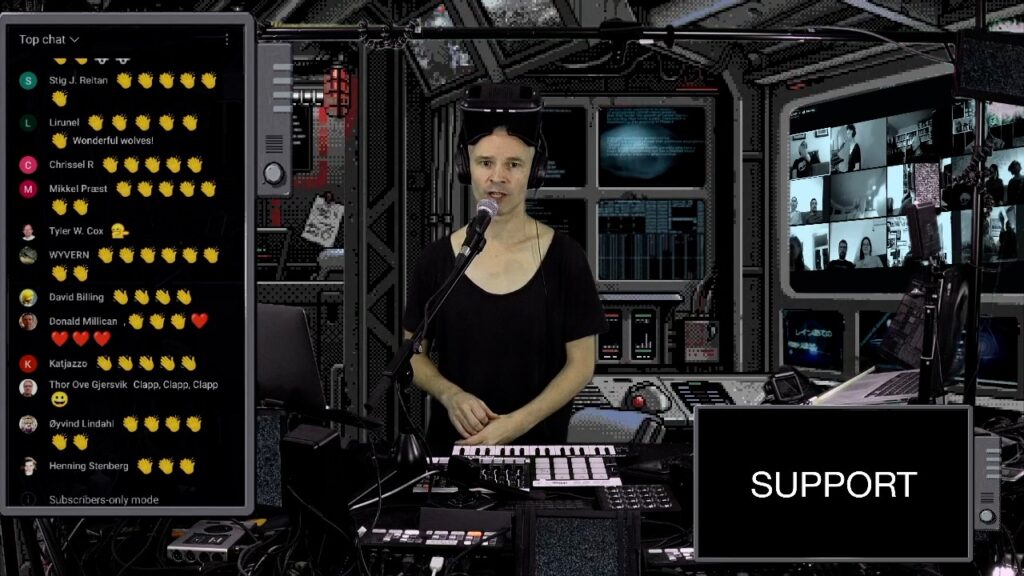 Thank you everyone for your wonderful generosity. Together we raised
2 801 EUR
for Ukraine humanitarian first-aid, resulting in 700 EUR to each organisation. See my
original statement
for which four organisations I've chosen and why. I've now transferred everything.
Here is the geeky breakdown of numbers.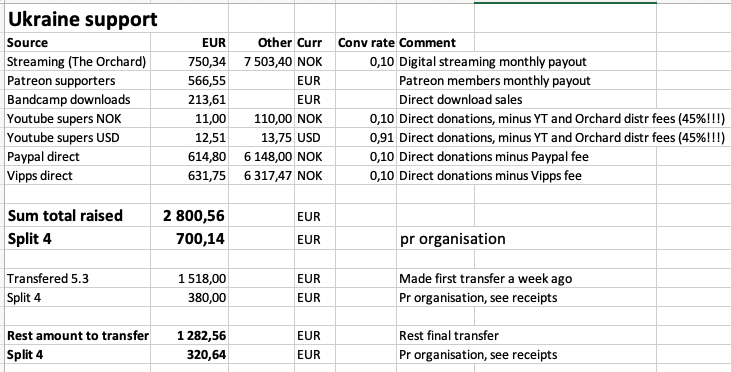 Notes
:  
Streaming
is of course not for this month, it takes several months from a stream is played until that stream is paid out. I simply took this month's payout, since they need the money NOW.
Patreon
also is paid out retro-actively, I just took this month's payout.
Bandcamp, Paypal, Youtube
and
Vipps
are all direct deliberate donations from you.
Youtube
supers are unfortunately heavily taxed by app store commissions, card processing fees, Youtube and my distributor The Orchard. I estimate I end up with maximum 55% of those, but could be as low as 25% in some cases.
Thank you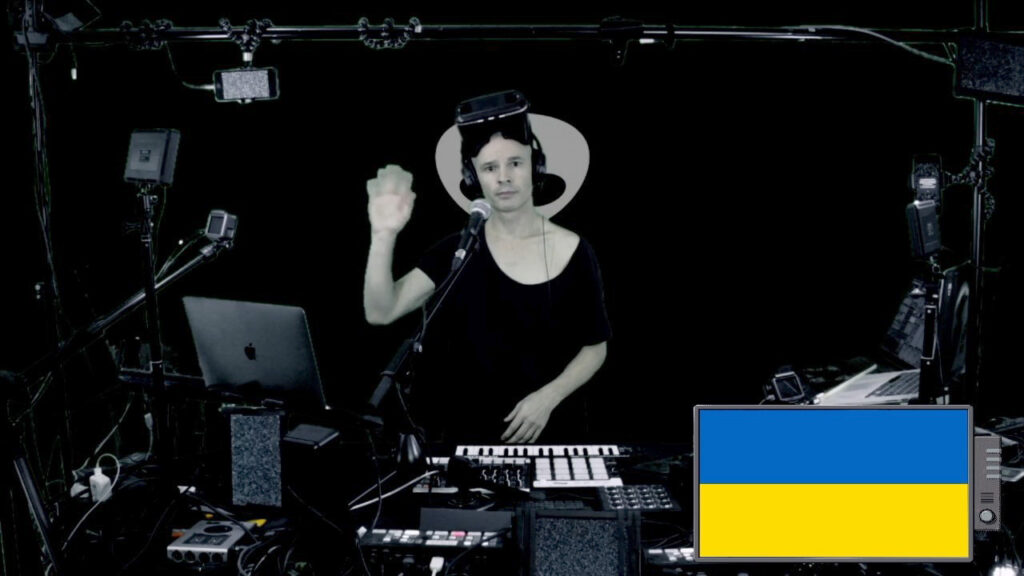 It makes me very proud that this fundraising is by FAR the highest average per viewer pr night we have made since I started livestreaming early 2020. Thank you for your generosity.
Some of you have made jaw-droppingly large donations (to my eyes), but I also know with certainty that many of you have made donations that are comparatively large in scope to you and your life. We all have wildly different economies and abilities to contribute. My gratitude and respect are distributed evenly to everyone.
I have seen and deeply appreciated all of your comments and greetings attached to the transfers. I won't be able to thank you individually, just know that I've seen everything and I'm very touched.
Accounting
Here are just a few examples of screenshots of receipts, you can view
all of them in this Dropbox
. I've named the receipts by income, support and the date of the transfers.
This was my monthly payouts plus first release day of Bandcamp downloads, which usually see the most downloads. I did these first transfers as soon as possible because I think timing is essential right now.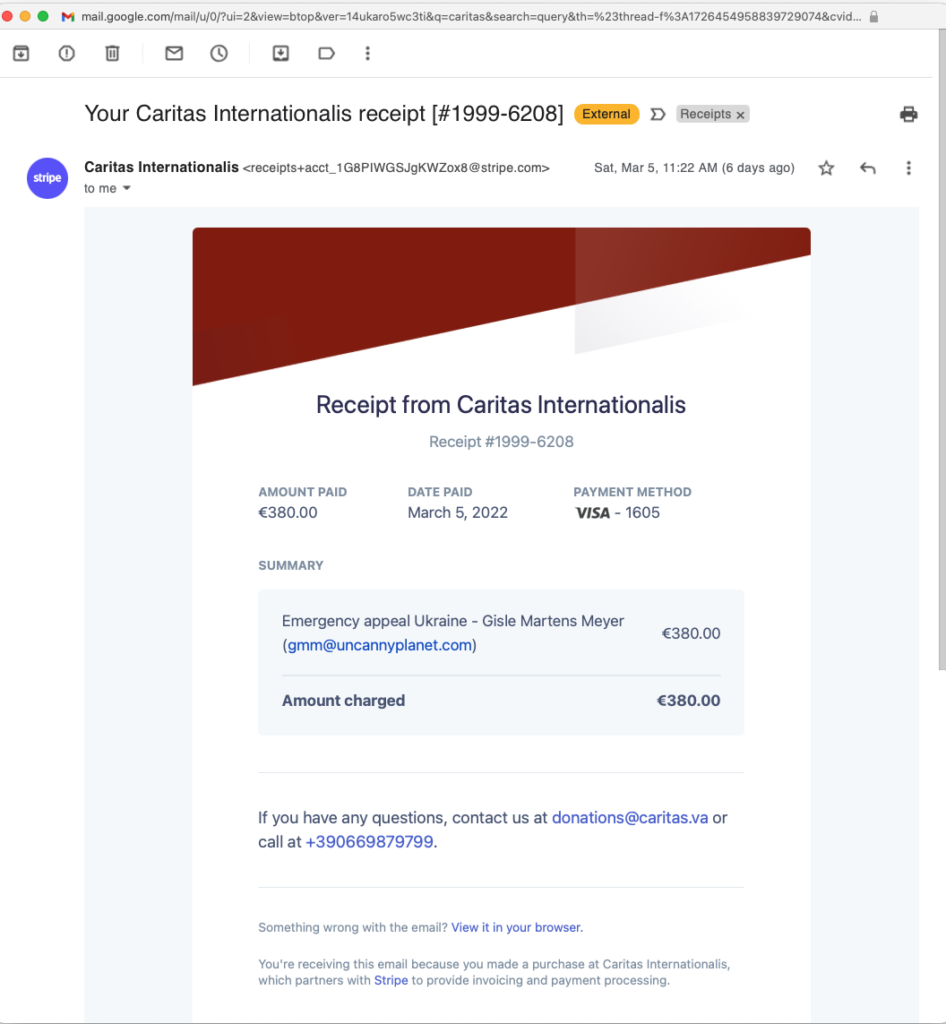 Then today I made another four transfers of 320 to each organisation, forwarding the rest of the income from last night plus later Bandcamp downloads.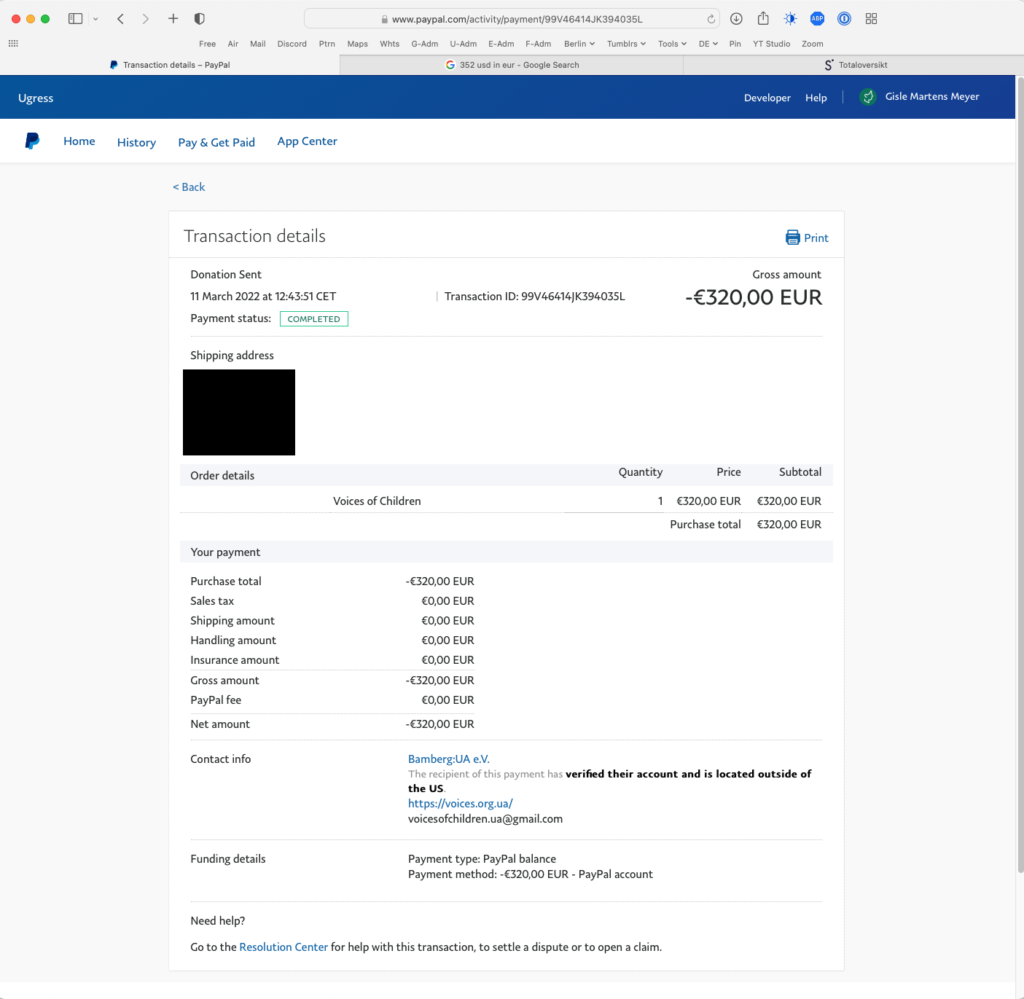 Notes to accounting: I've redacted your names except for first letter so you can verify your contribution by date/time where it is possible. For Paypal, I receive everything in NOK, regardless of which amount and currency you made originally. I think you can see the NOK amount on your transfer to compare. For Bandcamp you can see the time of your purchase. All times are in CET. For streaming, I've redacted the distribution fee from the statement because that is a non-public agreement with the distributor. For Patreon, the sum is the monthly fee at the turnover moment (first of the month) minus Patreon's fees.
Please remember that the catastrophe is still unfolding, this was just emergency help.
Thank you and take care.
Best, GMM