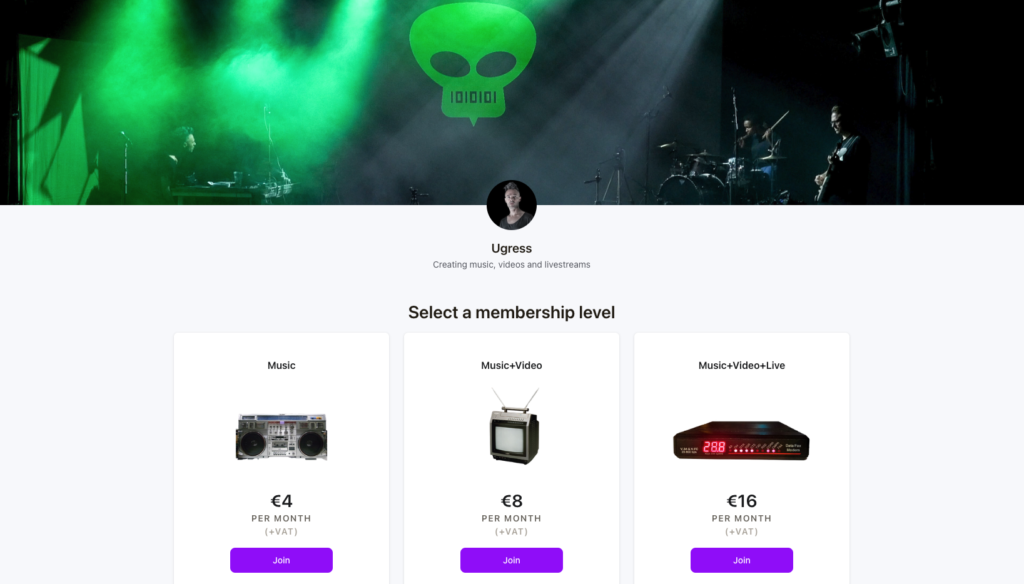 If you want a deeper look into my work, you can follow me on Patreon. This gives you exclusive fresh new Ugress content every month. It provides me with a stable, predictable income. This is THE best way to support me as an artist.
Patreon is a platform for artists to earn a stable monthly income. Every month I post exclusive audio, video and live events, from historical archives, current tours and upcoming new work-in-progress.
There is also behind-the-scenes documentation and regular monthly status reports.
What I have found very interesting after two years on the platform, is that Patreon has become a very valuable artistic platform for me to experiment and develop, and it has also created a vibrant little community around the art. These outcomes I had totally not expected when launching it, and this is the reason I am now actively promoting my Patreon – it is ultimately an investment in better art.
If you'd like to join, my Patreon consists of three different tiers, each with different prices and monthly content. VAT will be added depending on your location:
At 4 EUR / month, the music tier gets one or more music and photo posts pr month, and all releases before they are public. Not only Ugress but also all sideprojects. You can also access the full archive of all the music posts.
At 8 EUR / month, the video tier gets everything from the music tier PLUS one or more video posts each month. These videos are either from the archives, from current tours or projects, or work-in-progress from upcoming releases. Sometimes it's a short behind-the-scenes report of a few minutes, other times it is a full-length silent movie concert of 120 minutes. You can also access the full archive of all previous video posts.
Then the super-deluxe 16 EUR / month Live tier gets everything from the two previous tiers, PLUS a live event and hangout each month. What kind of event varies, sometimes its a general rehearsal, some times a prototype concert testing out new ideas, sometimes a silent movie concert. This tier can access the complete archive of all posts ever posted, which is by now several hundreds.
My original idea was that you would move between the tiers as you desired, generally jump "up" a level for a short period whenever a specific event or post interested you. (Which is why the top tier is priced like an average concert ticket.) But it turns out pretty much everyone just chooses their preferred level of content and stay there 🙂
Patreon membership also gives you access to the private Ugress Discord server, which in my case is used text-only. Discord is a realtime chat-service. For Ugress it kind of works like a "backstage" space, where we chat about the music, livestreams, projects outside of the public sphere, and coordinate real life meetups when touring.
Every six months or so we also do a "Patreon Party", a general livestream hangout for all Patreon members. I present upcoming music, talk about my work and plans, and we discuss the development of the Patreon space.
Every now and then I also do film music DJ nights, streaming a a few hours of me DJing my favorite songs and scores from film and TV. Last year we also did a silent movie project (A Trip To The Moon), deciding on a film, developing the score and premiering it all privately on Patreon.
And finally, as a Patreon member, you are credited as a funding supporter in all current and future productions.
I'm totally aware that Patreon membership is not the path for many. Please be aware that I'm equally grateful for those of you who choose to support me in other ways.
Thanks for considering,
GMM / Ugress