This year music changed, or seen from another more exciting perspective, music actually entered the future. In Europe, this was spearheaded by a simple, but brilliant application.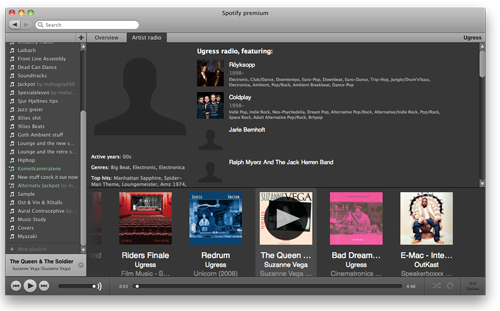 I declare Spotify the most memorable music experience of 2009. Even if the service itself needs a few nudges to become perfect, and it might soon be swallowed by larger or better competitors, Spotify will forever be the first, most important step towards a shiny musical future.
Spotify also changed the way I listen to music, I'm not "buying" albums anymore, I kind drift in and out of artists, albums, tracks, films, compilations. Which makes it even harder than usual to pick a few "albums" that deserve more mention than others. I also notice to my horror a consequence of this; there are not personal stats or history on Spotify. If it isn't on a playlist, I have no idea what I have been listening to!
When it comes to contemporary pop and electronica, I have been blissfully ignorant this year. I do have a massive amounts of albums, artists, releases and projects on my to-do list; I am intensely looking forward to having more time in 2010, and catch up with what the rest of the world listens to (and hopefully play some video games too, a category I skip because I only played one game for a few hours this year).
If I should have to mention any specific music that defines 2009 for me, it must be the music of Alexandre Desplat and Joe Hisaishi.
Mr. Desplat did an excellent score for Benjamin Button, which caught my attention, and I dove into his other scores, much of it available on Spotify. My other favorite score of his, currently, is Lust, Caution, but in general I just love his sense of musical adventure and mystery. Yes I know he also did Twilight.
Mr Hisaishi is another composer who's work I was already familiar with from Miyazaki's films, but first this year I properly investigated more of his music. His music is more playful than Desplat, but still with the same aura of magic and adventure.