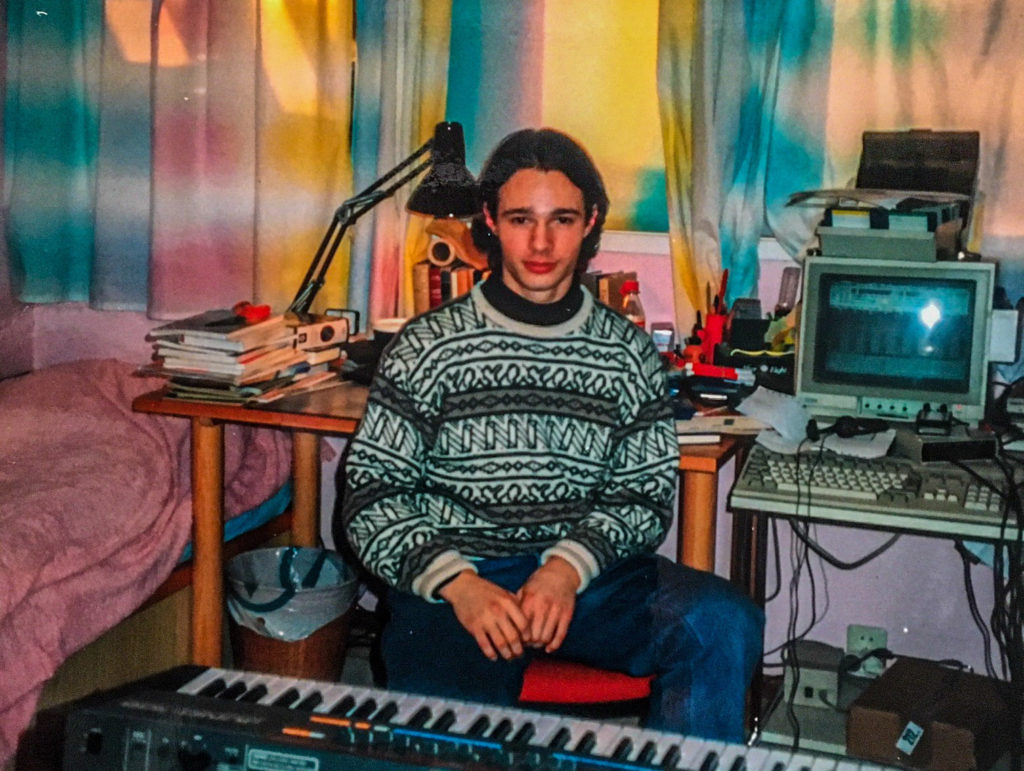 Story time, my macarons! (Concert time is on Wednesday.)
I'm by nature introvert, it suits me very well, staying quietly inside my head making up ideas, stories, worlds. I prefer using my fantasy to imagine an idea, and then shape it to life with digital tools, and publish it in a digital universe. That way both me and the idea stay in this theoretical, make-believe world. It's never tainted by becoming a physical product. I love making digital creations, because they're never really FINISHED, you can always UNDO, which means, they are in a way always alive, forever.
But, wait, this makes me sound like an innocent angel, creating blissful magic out of bits and bytes. That is NOT true. I am a notorious and lazy pirate, stealing like a smug raven, hacking together Frankenstein monsters out of stolen parts. They'll fall over if you blow at them. They'll fall with with a great sense of drama. It's all facade, but in a digital world… isn't everything just a facade?
Background
First, a bio background, there are important elements in my childhood that explains why I'm creating the way I do.
I was born in 1975 on the outskirts of suburbia on the outskirts of west-coast of Norway, itself an outskirt of Europe, and I grew up at first extremely analogue. I had a wilderness childhood without devices, my most sophisticated device was a flashlight with sucky batteries that had settings for white, green and red light. I loved roaming for myself in forests, just outside the door of our social-democratic apartment block. I wanted to be a truck driver when I grew up. Or, maybe post office worker, I loved stamping things so hard. KACHING. KACHING. APPROVE. Notice – this explains my patience with touring and endless label admin paperwork.
As a kid I often created complex toy roads and cities and megastructures on the playground, and then acting out the immense catastrophes that could – did, of course – happen to these doomed worlds. Oh no, the dam broke! The tree fell! The avalanche! The cave collapse! The 800 meter human monster! The gigantic runaway bike! What will happen to this tiny village filled with innocent unaware .. ooooh noooo its completely obliterated. They're all dead, what a tragedy. What a catastrophe. Notice – an early preference for grand spectacle and drama. No wonder the gloomy wagnerian chords and immense beats.
My favourite picture book was on road engineering, I drew "improved" versions of the roads on top of them, making loops and hacks and a recursive mess of undrivable roads. Notice – I'm stealing and "improving" on the work of others by total chaotic obfuscation.
The importance of libraries
Then, in primary school, I discovered sci-fi at the school library, and my imagination took off.
These books, and Bings beautiful philosophy on the value of open information, created a spark of interest in technology and computers (and escapist sci-fi). With spooky timing, my school coincidentally had a summer course on programming computers the same summer. I think this came through the enthusiasm of a geeky teacher wanting to show the kids something "cool".
As an aspiring geek I attended the course after regular classes, we learned to program 1 FPS movement of geometric circles and lines on a screen. This must have been 1985 or so. I was instantly mesmerised and falling in love with programming. I could make pixels move around by typing commands. The seeds were planted: How can I make an immense catastrophe happen to these pixels.
The importance of computers
The horrors of ungdomsskolen
Finally, I had a private panic room to escape everyday teenage hell: Creating music with trackers on the computer. I didn't know it at the time, but this was a channel where I could process, express and "store" my confusing emotions and endless anxiety. I was a terrible composer, but I had an OUTLET. I poured my angst into terrible songs. (I still do!)
Trackers to the rescue
Scionic (1993)
So from the very beginning, I was taught a fundamental understanding: Creating music, was a process of finding, curating, processing and manipulating samples – shaping them in realtime, and sharing the finished result with others.
There are four interesting things to notice how trackers and demoscene culture shaped me:
How trackers have shaped me
First, everything created in the demoscene was always LIVE. What came out of the computer was being created in realtime by the system. This in difference to a CD or LP or mp3, where frozen music is direct playback of dead media. With trackers, the processing of samples into linear music is done in realtime, as you make it and as you listen to it. This means you are always working or listening to a living, responsive work. You could see how others had made their own tunes, you could change everything in their songs, everyone could figure out what everyone else is doing. The whole scene improved when one artist found a clever trick.
There is a trap here, which many electronic artists fall into: It is very easy for works to become technical demonstrations, instead of interesting artworks. I am aware of this, yet I also make this mistake over and over again. Of course technical demonstrations CAN be interesting, they can be art in themselves too, but more often, it is just demonstration of impressive craftmanship. For me, this challenge is an eternal process of balance, and I'm aware that I often see the problem in retrospect.
Back then I couldn't afford a synthesiser, drum machine or sound device to create my own sounds, which the "best" artists were doing to create their own sound. The only way of creating unique songs, was to build it with stolen samples, and finding clever ways to camouflage the fact that your instruments were all pirated goods.
Being a tracker musician was a scavenging, curating and camouflaging job. Scouting for interesting sounds, then finding ways of ripping them, building your own private treasure library of sounds, developing tricks to hide their source. I'm still doing this sonic hoarding and trickster mixing. A lot of my work is finding great sounds, regardless of source and then invent clever hacks for obscuring my piracy. I'm sure I spend waaaay more time covering my sources, then it would take to simply create the loot from scratch. But, this does enable my own peculiar sound.
Tales (1994)
And boom, suddenly I had really great new friends, supergeeks into all the same things, several of them became friends for life. It is another story, but many of the people in this "geek tribe" went on to launch great startups and apps, and through this network I also found a path into adulthood in the city, a path into first jobs, apartments, into meeting other "real" musicians and eventually all the way to performing live. This newfound tribe, their networks and the companies they started and the opportunities they provided for me when I decided to risk it all for music with Ugress, was critical.
But all that is a story another time, just important to notice, the door to this future was opened by the Tales musicdisk.
Vampyra (1995)
I'm scared away from academia by its glacial pace. It is clear to me that the internet and creating your own path, on your own terms, is the future. Internet itself is slowly taking off, mp3s are simmering, and my music is getting spread worldwide. Pina of the Czech group Torture of Music reaches out, we find a great tone, develop a friendship that still lasts and Gnosis joins Torture of Music. Suddenly I'm no longer publishing and bartering alone. I remember being very proud of acceptance into an international demoscene group, however marginal my own role.
From the perspective of today, I understand I was repeatedly encouraged by reality to keep releasing things for free – the value gained was in the network and world-growing each release created, not in any monetary income. I do not realise this at the time, I think none of us did.
Incubus (1996)
This detour into EDM and clubbing isn't suuuuper great for my work in itself, this music disk is probably the least interesting musically, at least for me? But this "step" was still important, because it was through this club-scene manoeuvre that Ugress a few years later made its live breakthrough It doesn't happen so much these days, but at the start when we were touring, we often played more for dancefloors than a still standing, listening crowd. My first manager a few years later was a club promoter that I connected with through this 90ies dance culture and the local DJ scene.
Cybrid  (1998)
The tracks from this period are therefore a combination of tracker music, sequenced device music and DAW processing, often all of this in the same track, which took a lot more time to finish. Maybe the song was started in a tracker, using samples from a synthesiser I programmed myself, then processed with a hardware effect, and then recorded, mixed and finished in a sequencer or DAW. Like a "real" musician. I think these tracks and this period is a bit lost, and "searching", this was period of confusion both musically and technically, before I finally found my proper path again with Ugress, and going back to doing everything in the box with DAWs.
I can tell that I'm searching in the music, and there are clearly pointers towards Ugress when I listen to these tracks today, with layered breakbeats, cheeky movie samples, symphonic sounds, cinematic musicality and atmospheric soundscapes.
Conclusion
I now spend most of my time figuring out how to fake cinemascope art with ironic sense of immense catastrophe that makes you dance in your head and also runs in realtime on shoestring budgets live on a stage. I get to stamp label paperwork, and ride shotgun with tourbus drivers. And it actually WORKS. I don't know why, but it just does. The impostor syndrome is stable. The Frankestein facade still stands. If we manage to nuke that virus, I'll actually be touring Europe in a few weeks with all this madness.
This was true for the first 10 years reviewed above, and it has been doubly true throughout the following 20 years with Ugress. The music itself is always the portal to the next level. This phenomena increased exponentiall with Ugress. But, oh dear, look at the time! The stories of those releases, and the even stranger doors they have opened… the worlds I have seen… attack ships… and the future portals we have yet to enter… THAT is a grander tale, for another night.