The 11th Ugress album SCAVENGER ROYALE is out today June 17th, 2021. Download direct from my Bandcamp or play in Spotify, Youtube, Apple Music, Soundcloud, Amazon and all other services.  
There will be an epic releaseparty livestream concert tonight on Youtube, June 17th at 20:00 CEST.
Reanimating The Ruins Of The Mediapocalypse
The future has collapsed. You're in a wild, vibrant and overgrown media landscape of fragmented ruins, drifting in and out of forgetful consciousness. Microscopic slices of memory stutter and dance in random flashes of recognition. The ruins are quietly sprouting, growing and grooving back to life. Something uncanny scavenge for shape.
"Scavenger Royale" is the 11th album by award-winning media-artist Ugress, the first in a brand new trilogy of releases where they musically and visually hyper-recycle our incessant collective media detritus. Through extensive processing and mutation of lost and forgotten media, culture and mythology, the artist deconstructs personality, sound, music, graphics and video down to the atomic level, then re-animates the floating particles of ideas, eras, genres and cultural phenomena back into recursive phantoms of themselves.
The tracks infinitely verges on recognition. There is no core, there is always just another ghost within us.
Selected track details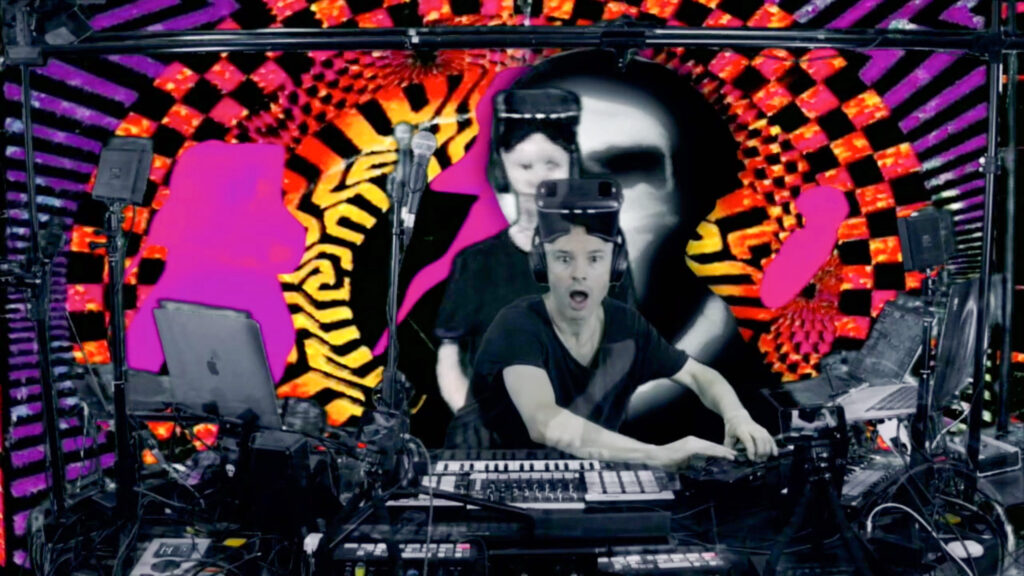 Candyslam Rainbow Massacre
is a ghost of 90ies dance club anthems, a wall of sound sculpted from artificial intelligence recreating, reinterpreting and reperforming singular elements of 90ies techno and dance culture. Sounds, rhythms, words, key, tempo amassed into a gigantic mountain of sound, then patiently carved back like a sculpture to reveal it's own essence. The
live performance
also uses neural network generated ghosts of 90ies dance music videos, club flyers and early rave culture aesthetics.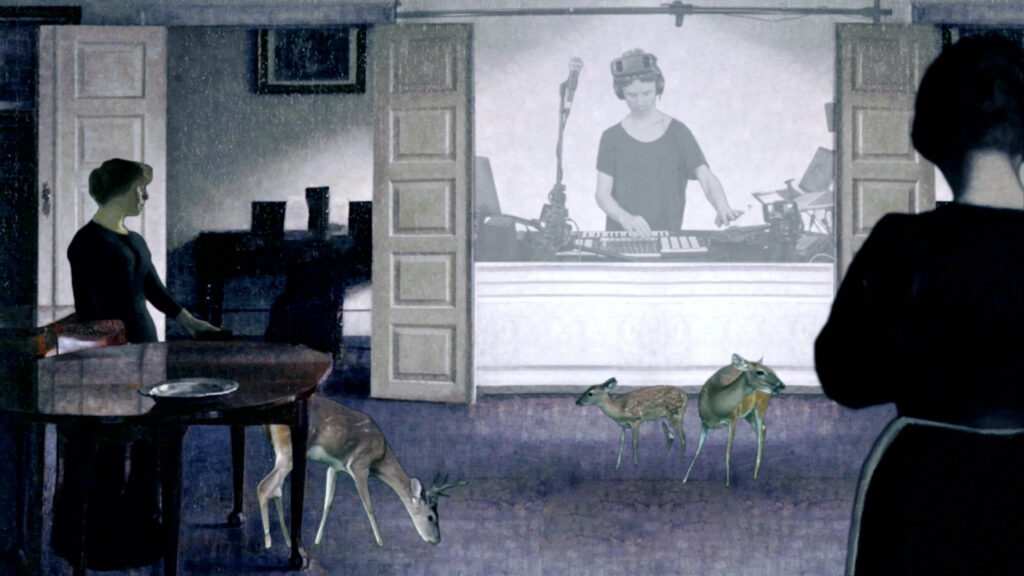 Concierto de Aranjuez (Planet Hikikomori)
is a cover version of this saccharine-sweet classical guitar concert work by Joaquín Rodrigo, built from hordes of samples scavenged randomly from thousands of Youtube guitar practice videos, all mutated and reprocessed to perform simultaneously as a coherent swarm of guitar practices,
exploding with too much emotion
bottled up after being stuck inside for a year.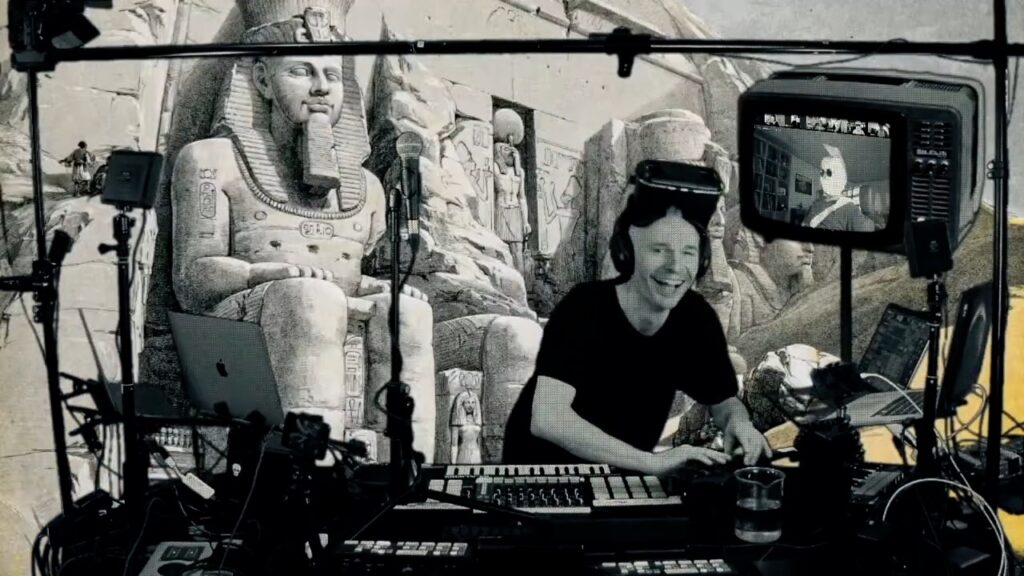 Curse Of The Cancelled
lifts elements from dusty old Egyptian and Persian disco ballads, re-assembling themselves into an over-the-top pastiche of questionable "orientalist" stereotypical riffs, melodies and grooves. The
live visuals
similarly scavenges "scientific egyptology" drawings and characters from orientalist paintings of the 1800s, performed and recorded live with integrated Zoom audience participation, where the artist's fans participates as "Zoom mummies", re-purposing their covid-hoarded toilet paper.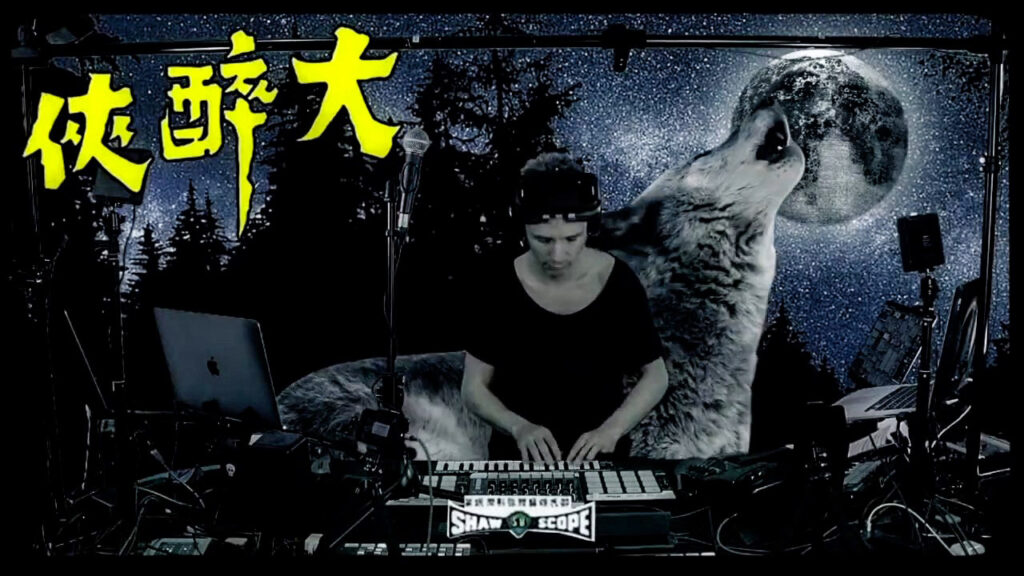 Miracle Of The Shaolin Moonwolf
is a montage of 60ies and 70ies Chinese and American wuxia and kung-fu soundtracks, all layered on top of each other for maximum force of funk and groove, combined with the
realtime autotuned howl of wild wolves
.
The Teddy Bear's Picnic is a gloomy goth-gaze cover version of a vintage children's nursery song, built by scavenging phrases, sounds and samples from all kinds of vintage nursery recordings, reassembled back into a dark orchestral version of the track where all keys are shifted to a more sensible minor.
About Ugress
Ugress is a cinematronic music project created by Norwegian media artist
Gisle Martens Meyer
. Since their first self-published vinyl in 2000, the project has by now released several gold-selling albums and won nominations and awards in all categories of film, music, art and technology, as well as created commissions and blockbuster productions for a wide range of international institutions. (For references see
attached CV
or
composer worklist
.)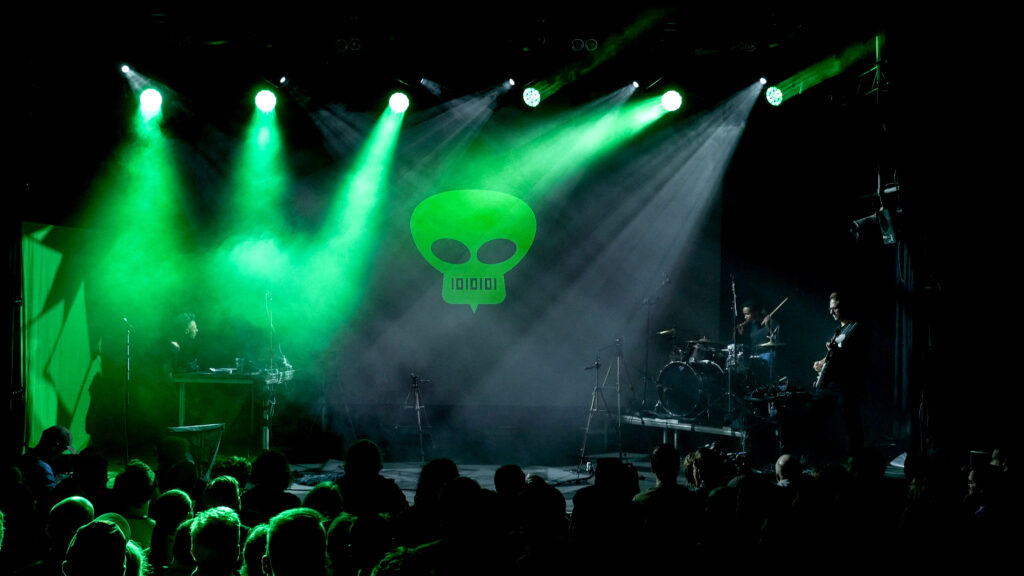 Before covid-19 Ugress regularly toured Europe with
their highly cinematic and visual shows
, in which the artist creates and manipulates hyper-real music videos live on stage. Ugress Live performs either as an intimate solo performance, as a rock band trio with drums and guitar or with huge ensemble productions, spanning venues from gloomy dark goth clubs to vintage cinemas to international festivals of art, technology and media. The music is frequently licensed to films, TV and video game productions.
During the covid-19 pandemic the artist succesfully established
Ugress.TV
, a regular livestreaming plattform, performing monthly concert shows in a series of 15 episodes, with 10 more episodes planned for season 2021/2022.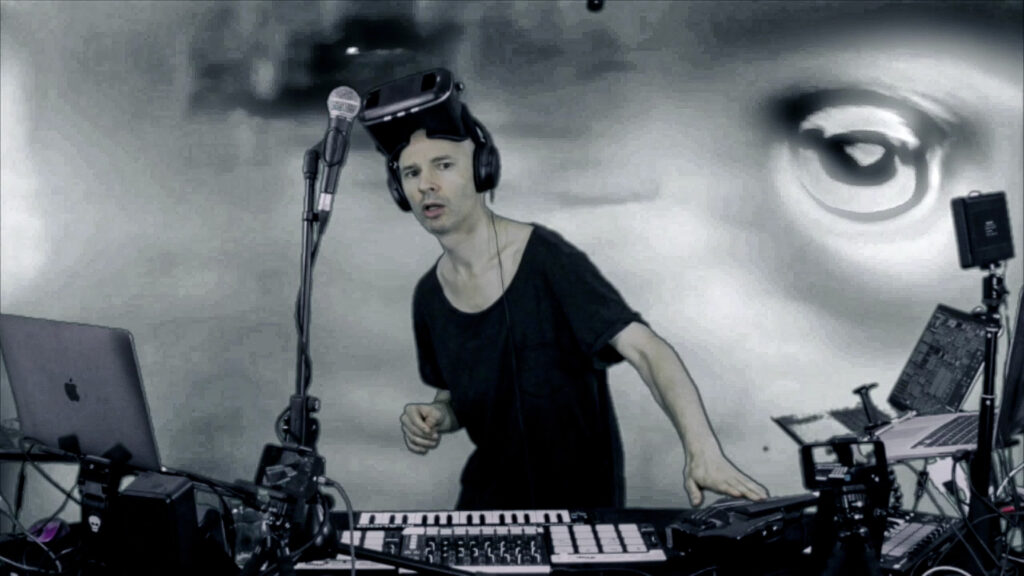 Martens Meyer works as an artist, producer and composer between Berlin, Oslo and Bergen, and has created works and productions for a wide selection of Norwegian and international institutions: BIT Teatergarasjen, SONY Computer Entertainment Europe, Festspillene i Bergen, NRK Norwegian National Broadcaster, Norwegian National Ballett, Carte Blanche, Bergen Philharmonic Orchestra, BIT 20 Ensemble, Stavanger Concert Hall, Tanzhaus NRW Düsseldorf, ZKM Kalrsruhe, Spektrum Berlin, Theatre Bernardines Marseille, InShadow Lisbon, MarteLIVE Roma, Sala Hiroshima Barcelona.
Scavenger Royale
 is released June 17th on Uncanny Planet Records, distributed by The Orchard. Releaseparty with full concert performance will
livestream on Youtube
June 17th at 20:00 CEST.  Ugress performs live in Oslo 02.09, Stockholm 04.09. and Bergen 26.08.
Credits
Composed and written by Gisle Martens Meyer except Concierto de Aranjuez composed by Joaquín Rodrigo, and  The Teddy Bear's Picnic composed by John Walter Bratton and Gisle Martens Meyer, with original text by Jimmy Kennedy. All tracks arranged, programmed, performed and produced by Gisle Martens Meyer. Published by Uncanny Planet Records.
Direct Artist Contact 
Supported by
This album was created with the consistent monthly support on Patreon  by the following patrons:
André Bragason, Anna Östergren, Anouk Wipprecht, Asbjørn Ulsberg, Beemo McButter, Bjarte Nilsen, Bryan Hess, Christian, Christian Solum, Dante Karlsson, Dmitri Medvedev, Dominique Neuen, Donald Millican, Geir Kreken, Gunnstein Lye, Håkon N, Håvard Engum, Henning Stenberg, Henrik, Henrik, illitrate , Jesper Johag, Jody Hatton, Jon-Håkon Røli, Justin Fauth, Kath Hill, KMM, Lars Tørvik, Loch, Lucrenth, Mandy G, Marjan Kurosilva, Matthias Hilbig, Mona Cecilie Gravdal, Morten Moene, Morten-Chr. Bernson, Nathalie Riek, Oliver Lauenstein, Øyvind Løkling, pagetable.com , Patrick Grusdat, Perfect Blend, Purple Haze Arcade, Richard Imenes, Ronny Selnes, Sasha G, Soma Holiday, Stig J. Reitan, Stu Bail, Sunken Realm Design Co., Svein-Erik Rustad, Tarjei Heggernes, Thomas Nygreen, Thomas Snoen, Thor Ove Gjersvik, Tor Atle, Tyler W. Cox, Václav Lesák, Vaseltior , Viktor Weyde, Vincent Plissken, 千恵 竹内
This album was created with the help of direct donations by the following supporters:
Adam D, Adam H, Adrian G, Adrian J E, Agnes I D, Aino M, Airbnb P L S, Albert H V, Ale D L, Alexander J, Alexander K, Alexander R, Alexandra G, Alexandre P, Alexandria J S D, Alisia S, Amethystium, Amy S, Anders B A, Anders E O, Anders E S, Anders F P, Anders S K, André B, André K, André M, Andre S H, Andreas H, Andreas S, Andreas E L, Andreas K A, Andreas L F, Andrew C A, Andries J O, Anna Ö, Anna-Clara Ö, Anne L W, Anne-Line T, Annette H S, Anouk W, Arild H, Arild K, Arild T, Arpad A, Arpad M, Artem C, Asbjørn U, Asbjørn A U, Åsmund E, Åsne R, Audun N, Audun G L, Bandcamp, I, Bård-Henrik H, Baste C, Beemo M, Berit S, Berit E S, Bernt C T, Birger T T, Bjarne R, Bjarte M, Bjarte N, Bjarte M Ø, Bjørn I L H, Bjørn J K, Bjørn M K, Bjørn M M, Bjørnar J, Bodil O, Borgar B F M, Braeden L, Brigitte G, Bruno E, Bryan H, Caralluna, Caralluna , Celia H T, Chimchimcherry N, Chimchimcherry N Chrissel R, Chrissel R Christer S, Christian, Christian R, Christian S, Christian W, Christian H B, Christian H S, Christine Ø L, Christoffer M, Christoffer H B, Christoph V, Christopher B, CoreMelt P L, Dan W, Dan E S A, Daniel-Amalric C B, Daniela M, Daniela R, Dante K, Dariusz J S, David B, David D, Dennis L, Didrik F, Digital R I L, Dmitri M, Dominique N, Donald M, Drini A, Dropbox I U C, Dubinski C, EarJuice, Ecclasette's, Edvard E, Eirik M M, Eivind H, Eivind S, Eivind R S, Ekaterina A, Eleanor F H S, Elisabeth H, Elizabeth H, Elyzabeth K W, Emil L H, Eric F L, Erik K, erik z, Erlend S, Espen H, Espen R, Espen S, Even G B, Eventbrite, Evernote C, Exonic U, Fastspring B, Florence G R, Florian W, Frank B, Frank E Ø J, Frank R R, Frederik T, Fredrik W G, Fridtjof H H, Frode T, Frøydis I K, Gardintrapp, Geir K, Geir E K, Geir I J, Gisle M M, Gjøran A S, Glenn F V, Gro S, Gro A S, Gumroad I, Gunhild L B, Gunn H, Gunnstein L, Håkon N, Halvor B S, Hans K F, Hans P G E, Harald N, Harald B F, Harald M M, Harald M S, Håvard E, Håvard S N, Heidi M K, Heike N, Hein H, Helene F, Helge E, Helge F, Helge T, Heli J S, Henning S, Henning S henrich z d, Henriette S J, Henrik, Henrik G, Henrik S, Henrik B A, Henrik H B, Henry B, illitrate, Impact S L, Ingolf L, Ingunn E O, Iorga O, Irene H, Irene L, Irene C P, Iris T, Isabel A O, Isak D L, Iveta P, Iwan M, Jahn E N, Jan N L, Jan-Fredrik H, Janis R, Janis R Janne S, Jarle S, Jens A, jeppe w, Jesper J, Jim B, Joakim E B, Jody H, Johan H, Johan K, Johan Z, Johannes G, John A A J, John C H, John R E, Johnny Ø, Jon B, Jon M R, Jon-Håkon R, Jonas F, Jonas L, Jonas H L, Jørg T S S, Jørgen K, Jørgen D L, Jose M, Julian W, Jürgen W, Justin A, Justin F, KAM-EL A, Kari M M, Karl T K, Kasper H M, Kath H, Katja R, Ken-Gøran S, Kenneth A, Kenneth H, Kenneth R, Kenneth S, Kenneth T B, Ketil S, Kevin R, Kim M J, Kim R S, Kim-Tore C, Kiva U F, Kjetil J, Kjetil M, Kjetil B R, Kjetil S H, KMM, Knut F, Knut-Espen H S N, Kristian E V, Kristian M S, Kristin T, Kristin F H, Kristine F G, Kristoffer W A, Kurt K N, Lars T, Lassi S, Leif O J, Lena F, Lene S K, Leo G, Leo V, Leo R, Leslie C R, Lightwork S I, Linda K, Linda M J S, Linda S T, Linus B, Lisa F, Loc L, Maciej S, Mads S L, Magnus F, Magnus A H, Magnus E S, Magnus M M, Magnus S L, Mai-Britt S, Malin A, Mandy G, Manu P, Marcel S T, Marcus N L, Margaret S, Maria M, Marion D, Marius H, Marius S, Marius B T, Marius O N, Marjan K, Markus N, Marta D, Mårten L R, Martin G, Martin L, Mathias K, Mathias E K, Mats L, Mats A K, Matthias H, maxim v v, May Å M, May L J, MEKAN A, Merete S, Mia H, Michael S, Michael R P R, Mikkel K P, Milla A T, Miriam T, modjo_man, Mona J, Mona B H, Mona C G, Monica A, Monica W E, Morten H, Morten M, Morten Ø, Morten K P, Morten-Chr. B, Morten-Christian L B, Movies w S, MUBI, Nadast, Narve E N, Nasra A O, Nathalie R, Native I G, Netflix.com, Nicolas M, Nils S M, Nils-Kristian M, Odd H U, Oddbjørn S, Ola B H, Olav S, Ole A N R, Ole P B, Ole-André R, Ole-Gunnar A, Olga B, Oliver L, Ørjan K, Ørjan L, Øystein E, Øystein F, Øystein G, Øystein R, Øystein W, Øyvind L, Øyvind R, Øyvind S, Øyvind S H, Paddle.com M L, pagetable.com, Pål K H, Pasi N, Patreon I, Patrick G, Patrick G Paul B, Paul M, PayPal, Paypal I, pchjelp.org as, Per M, Per H L B, Petra M, Petter B S, Phillip E G, Pierre M, Polyverse M I, Preben V, Purple H A, Qrates, Quantum L, Ragnar L B, Randi S, Raoul H, Raphael R, ReadyMedia, Remi S, Ricardo C, Richard I, Risto Y, Roar H, Roar E S F, Roberto M, Robin S, Roger H, Ronny S, Roy A G, Roy A T, Runar L, Rune R, Rune B S, Rune M K, Ruth J V, Samuel G, Sasha G, Senn B S, Shahram S, Sigrid G T, Sigurd N K, Sigurd S H, Simen J M G, Simen L K, Simen S A, Simon Ø, Simon-André E, Simone S, Sina H G, Sintija T, skinnyCorp, L, Snorre A B H, Solvår R, Soma H, SoundCloud L, Spotify F L, Ståle E, Ståle A P, Ståle P R, Steffen A L, Stian G, Stian S, Stian A N, Stig J R, Stu B, Stuart B, Stuart B Sunken R D C, Svein I A, Svein M K, Svein-Erik R, Sveinung M, Synne B A, Synnøve S, Tage O, Tarjei H, Tarjei A H, Teddy B P, Terje B, Terje M, Thobias W, Thobias S R, Thomas B, Thomas K, Thomas L, Thomas N, Thomas O, Thomas S, Thomas C S, Thomas F K, Thomas N H, Thomas S S, Thomas T T T, Thor O G, Thor S M, Thorsten L, Thorvald N, Tine M E O, Tom A, Tom A S, Tom E P, Tom S E, Tomáš S, Tommas S, Tommy B, Tommy I, Tommy L, Tone B H, Tor A L, Tor A H K, Tor K E, Tor K M, Tor O G, Tora E K, Tore J, Tormod B, Trond L, Trond S, Trude B, Truls L, Trygve V, Tuva S, Ty R, Tyler C, Tyler W C, Václav L, Vaseltior, Vegard R, Veronica H S, Vikram S R, Viktor W, Vimeo, I, Vincent P, Vincent R, Vladimir P, Walter M H, Yvonne K, Виталий Г, Владимир, Наточий В П, 千恵 竹
The album also received pre-production funding from Norwegian Arts Council.
Media and photos