A report on the April 7th livestream, with request results, and upcoming mad plans!
I will do a stream every three weeks. 😎 Next stream will be Ugress Livestreams: 30 APR. After that, Ugress Livestreams: MAY 21 and then another at Ugress Livestreams: JUNE 11. This schedule gives me time to release a new track (now on Friday 17.04), finish Nebular Spool and Ninja 9000 releases (coming in May and June), improve the livestream format, and produce live versions of your eminent requests. 😉
I also need to carve out time to finish the full Ugress album still scheduled for Nov 27th. Almost all of the cancelled tour dates have been moved to late autumn, so November is gonna be a VERY LOUD BLAST after months of tripping over cables and performing quietly on headphones in my living room.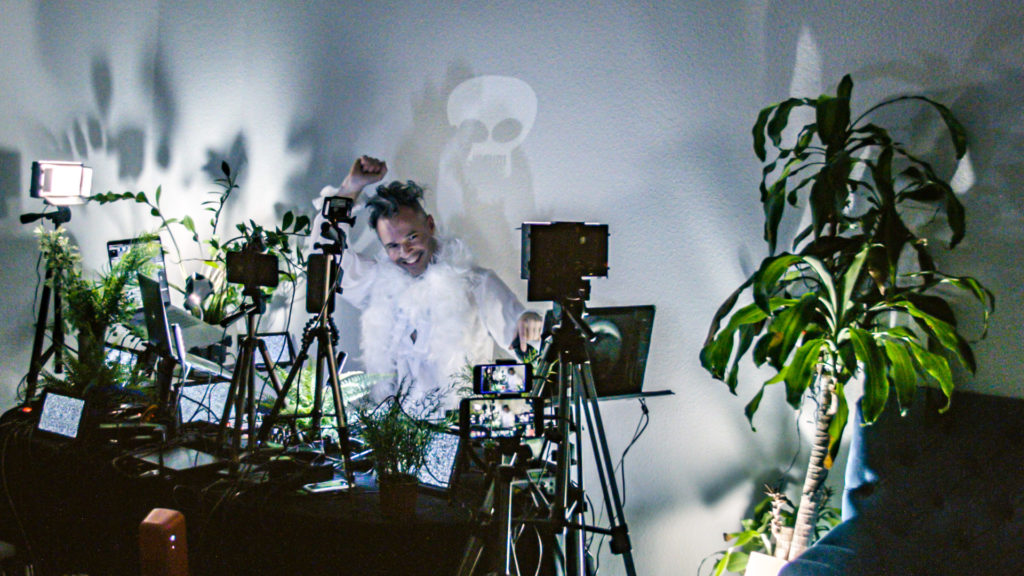 But dears, THANK YOU for attending the show on Tuesday, with your presence, comments, requests and generous donations. I see and cherish very much all your notes on the payments 🙌🏻 I've read through everything everywhere, including post-show comments and emails, also analyzed the show, taking note of realtime comments and requests, as the truest geek I've made a pretty spreadsheet with all the requests, so I can add to it over time 🤓 Here are the results for now, the top 10 requests by now:
1 – Manhattan Sapphire
1 – Decepticons (tie with Manhattan)
3 – Loungemeister
4 – The Deepest Veil
5 – Burning Rainbows (wow!)
5 – Luftslott (wow again!)
6 – Makina Fifth
6 – Reason To Believe
6 – Trigger 22
6 – Spider-Man Theme
This is soooo cool to know! Some of these I never considered doing live, and now I definitively will. (Some of these we always play anyway.) I can promise several requests fulfilled for the next show on Apr 30th 💪 I'm not sure yet how to solve tracks with guest vocals (they all live in different cities and countries, and I'd rather not "replace" them), but I have some ideas, we'll figure something out. Very curious to see how this request list evolves.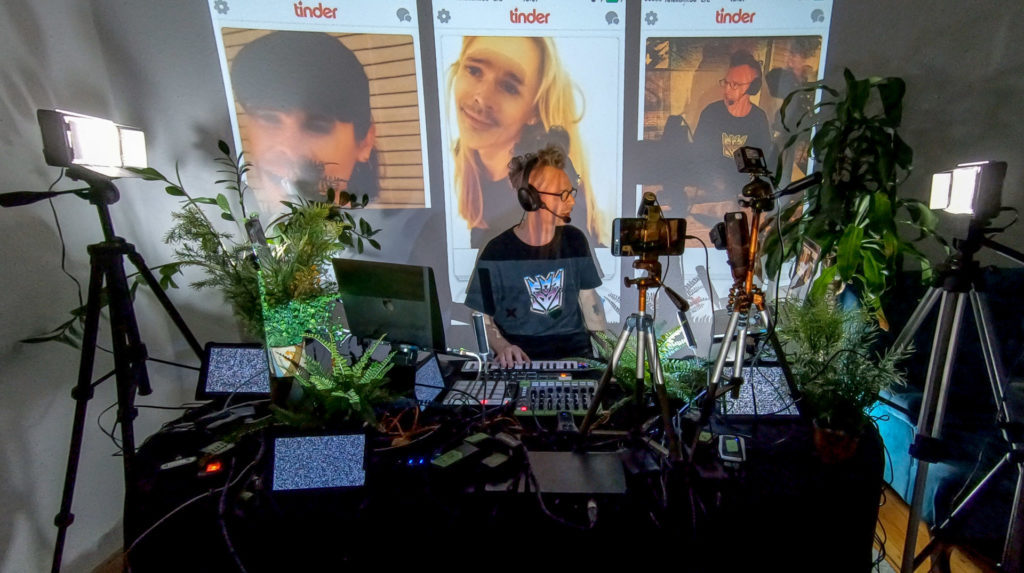 Three interesting observations on the requests so far:
1 – I'm really proud of the WIDTH of requests. So many different tracks (89 different requests!!!). I cannot see any obvious pattern. Which is great. There is a slight consensus at the top for "obvious" hits, a cluster of about 15-20 tracks have more of the votes than others, but you guys often wish for one of the hits and then one or two super weird ones. Clearly you guys listen to everything and find your own individual favorites, this is soooooo cool. It confirms my long time intuition that the weirder tracks are just as important as the popular hits, just in their own quiet, weedy way.
2 – I'm puzzled to see almost all requests are from releases up until 2017, and then… full stop? The releases since 2017 have hardly any track requests, except the outlier The Deepest Veil. This is soooo strange because according to streaming stats, these later releases are more popular upon release, compared to earlier releases? ¯\_(ツ)_/¯ And within THAT period, Veil is actually far from the most popular track, of the last three years it is only the 7th most popular. An intriguing mystery.
3 – Probably related to 2: There's only a slight overlap with the most popular live requests and the most popular streaming tracks. This is also great, and also puzzling. Planetfall and Teddybear is streamed A LOT, but was only requested once or twice. Decepticons are not as popular streaming, as it is requested. And, when it comes to sync (use in films and TV), there is absolutely no correlation with any of these to the most licensed tracks, those are their own separate list again. Super interesting.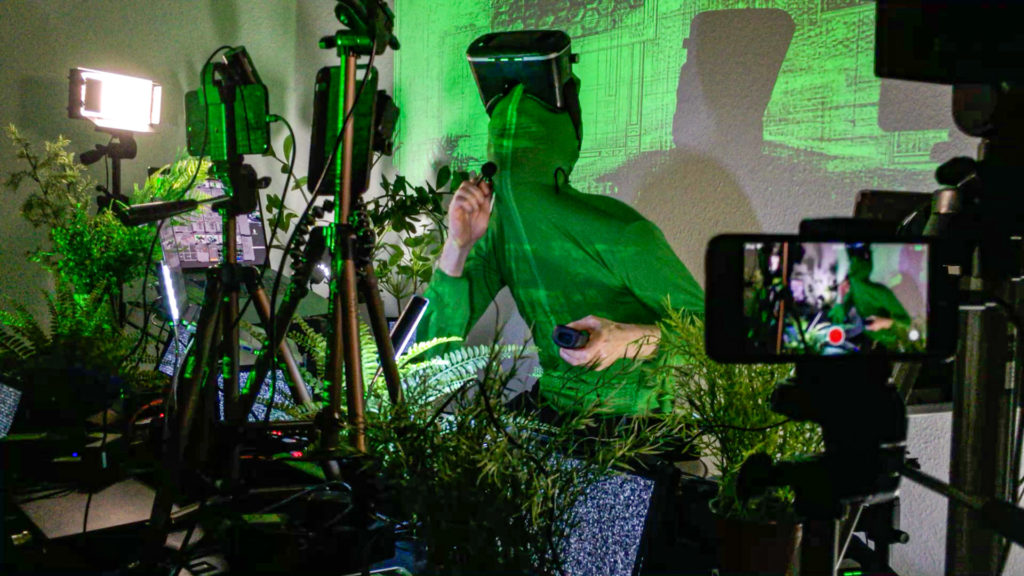 Artistically and performance-wise it takes a while to grasp and grok the new format of performing on headphones to a dead silent camera and an absolutely silent room that exists perpetually 30 seconds into the future – but that is also super interesting. And its kind of what we all are going through right now, right? Planet hikikomori.
So I'm full of excitement, quickly falling in love with this format and all the possibilites. Conceptually, a lot of my work already deals exactly with this un-real reality of our screen-based lives, so its a fantastic opportunity to work with the monsters in their own habitat. This is so super great, and there is a lot of room for experiments, since I don't have to rent the stage pr hour! (But have to clear the table for dinner every now and then.)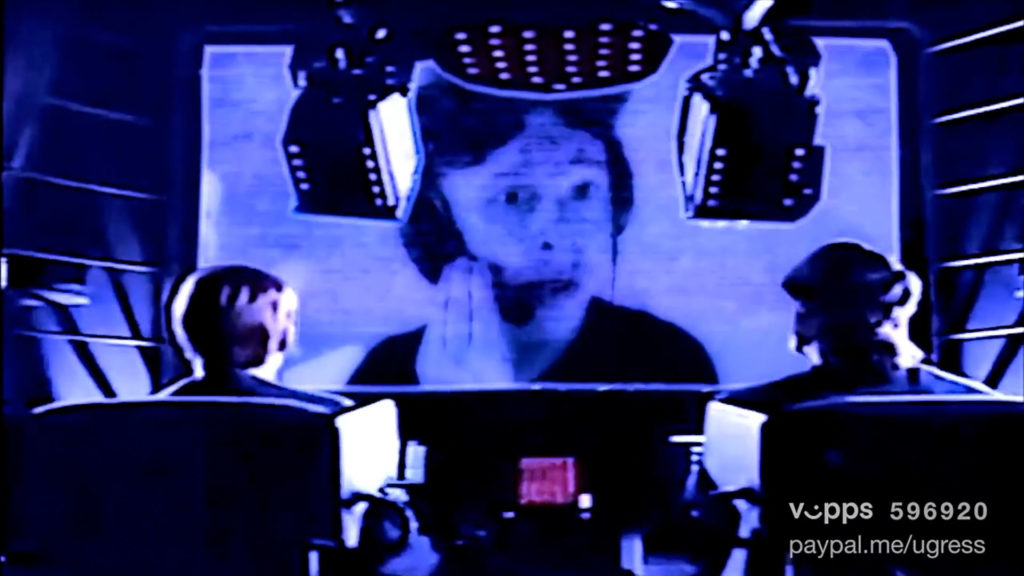 Regarding sound levels, and quiet parts, I see several comments on it being quieter than people prefer, but also the opposite, that sound levels are fine, and on my output and on the the downloaded recordings it looks okay to me, but I'm multicasting with Restream.io, there are many steps where things can go awry, so nevertheless looking into it now that I have some more time until next show. I've also preferred to err on the side of quiet, since you can always turn up on your side, but if its too loud, it would just distort without mercy.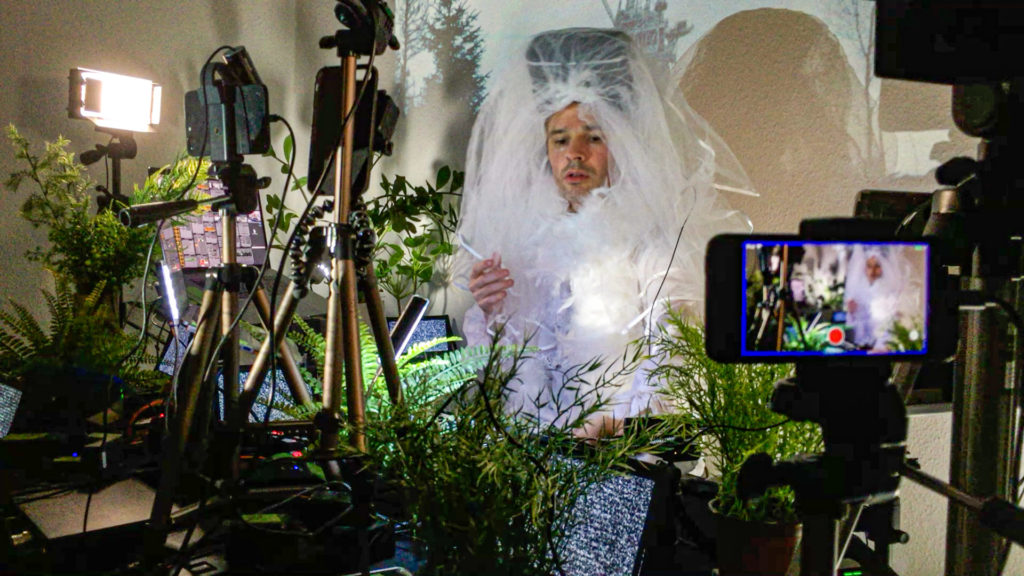 I also agree the silent chat parts is a bit eerie. I'll make some changes to the format for next time, that I think will improve both the whole session in itself, and also improve on sound. My live sets, performance and sound routines are over many years "honed" through experience for live sound creation on a real stage, which has a huge dynamic range (and a bunch of problems related to that), streaming really is a different world.
There are some things I can do with streaming, that can not do on a real stage, and vice versa, I'm psyched to start exploring this. I'm also careful that I don't go too deep into a rabbit hole that can't be translated to the other world again. This is a process, perhaps an endless one, so I AM transitioning and adapting my artistic ideas and live concerts to streaming, it just takes me a little while to figure out the strengths of the different ways. Looking forward to both the process and the result!
So for sure will make some improvements, and inevitably also discover some new problems for next time 😉
Hope you're all coping as okay as you can, and you found desinfection soap in your easter eggs. Again thanks a lot for tuning in. Will drop a new track now on Friday, and then see you all on Apr 30th.
G